Well, what a day it was!
Firstly, we would like to thank all of you who attended our National Volunteer Conference and those who helped out on the day to make it such a success! The purpose of the Volunteer Conference is to bring together the Le Cheile volunteer community to share stories, learnings and to re-engergise your passion for mentoring. We hope that the insights shared by our keynote speakers and workshop facilitators are useful for your own personal development as well as building up your mentoring skills toolbox.
We enjoyed hearing that the Probation Service was founded upon an ethos of community volunteering which tied in nicely of our theme – One step at a time, the transformative power of mentoring. Assistant Principle Officer for Young Persons Probation (YPP) and Director of Le Cheile, Ronan Mc Loughlin shared that the most valuable aspect of volunteers when mentoring is the simple fact that they are present for their mentee, showing their support and encouragement. The work of volunteers does not only have a positve impact on a young person or parent, but has a positive impact on society as a whole.
Our keynote speakers shared their personal experiences of transformative change. Dr. Rebekah Brennan and Dr. Brian Pennie combined their own story with their expertise to highlight the importance of one good adult in someones life and the importance of value based decisions to support change. The workshops on the day provided an introduction for volunteers to various tools and topics such as Motivational Interviewing (Jeanette Delahunty), LGBTI+ Young People (Youth Work Ireland Meath) and Recognising and Understanding Trauma (Rebekah Brennan).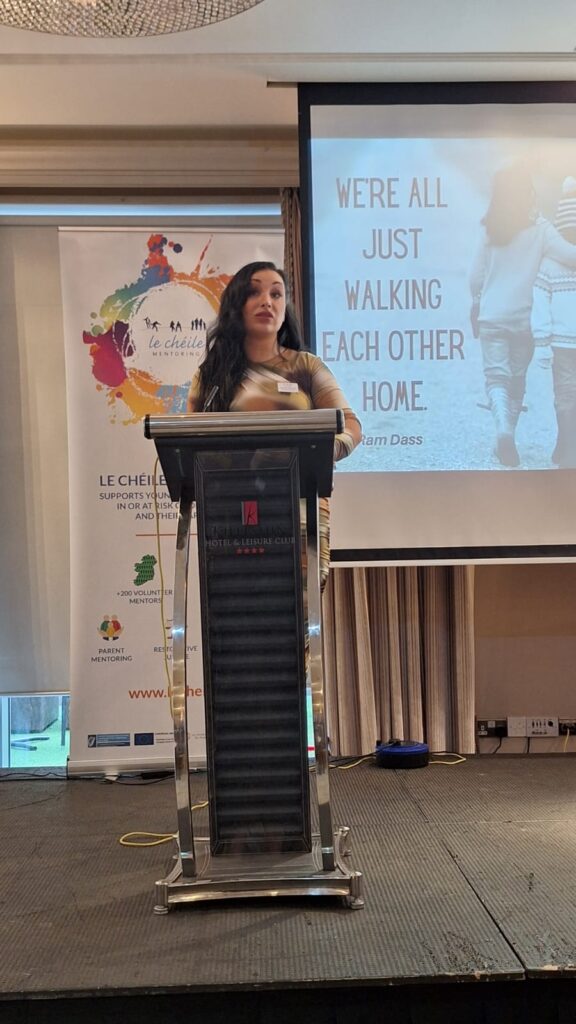 A very special part of the day was a fireside chat with a previous mentee, Caoimhe, who talked about her own experience of mentoring and why mentoring was a transformational experience. We would like to say a special thanks to Caoimhe for taking the time to be with us on the day
We were so glad to spend time with you all for the conference and to catch up with new and experienced volunteers! Thank you for the energy, passion and warmth you brought on the day. We cant wait for 2025!